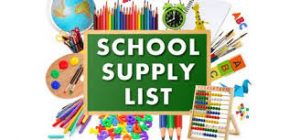 Here are the 2018 School Supply lists.
Garfield 1st
Garfield 2nd
Garfield 3rd
Garfield 4th
Garfield 5th
Garfield 6th
Garfield phys ed
Lincoln 3rd
Lincoln 4th
Lincoln 5th
Lincoln 6th
Highland Kinder_Henderson
Highland Kinder_Hould
Highland Kinder_Kovacs
Highland Kinder_Patterson
Highland 1st_Oster Benoit
Highland 2nd_Helgeson
Highland 2nd_Kelly
Jefferson Kinder_Schock
Jefferson Kinder_Schneidt
Jefferson 1st_Willson
Jefferson 1st_Hieb
Jefferson 2nd_Ingraham
Jefferson 2nd_Tait
Sacred Heart Supply Lists
Sacred Heart School Calendar
Miles City School Dist 2018-19 Calendar
Washington School does not have a list. So much depends on their schedules, which they don't get until the first day. Just paper and pencil required for the first day.