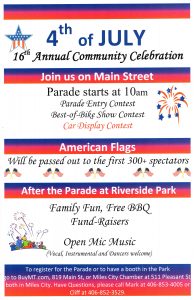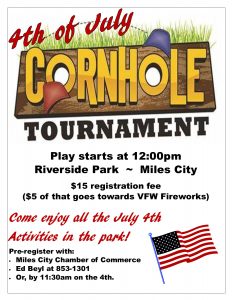 Join us for the 16th Annual Community Celebration!
Theme: Embrace the Future ~ Cherish the Past
10:00am Parade Begins – register at the MC Chamber of Commerce
Prizes for Best Parade Entry, Best-of-Bike Show, Car Display Contest
After the Parade in Riverside Park
Family Fun, Free BBQ, Fund-raisers, Bounce House, games, and more…
Open Mic – vocal, instrumental, and dancers welcome!
Corn Hole Tournament:
$15 register fee, with $5 of that going toward VFW Fireworks.
Call Ed Beyl to register: 853-1301
or register at the MC Chamber of Commerce
Fireworks:
The VFW Fireworks Display will begin approximately 9:00pm, from the beach of the Natural Oasis Swimming Pool. It can be seen from all over town.
Register for the Parade, or to have a booth in the park, stop by BuyMT or Chamber of Commerce.
For more information, contact Mark at 853-4005 or Cliff at 852-3529.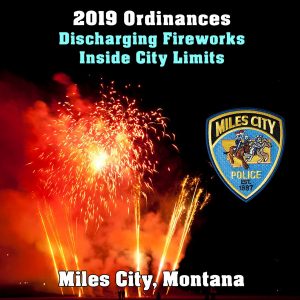 Here are the 2019 Ordinances For Fireworks Discharged Inside City Limits:
The discharge of fireworks shall be allowed from 10:00 am-10:00pm on Wednesday July 3rd and between 10:00 am & midnight on Thursday July 4th and 10:00 am-10:00 pm on Friday July 5th ONLY at the following locations:
Bender Park, Riverside Park, Jaycee Field and Tedesco Field.
On July 4th, NO fireworks are allowed after 8:00 pm at Riverside Park.
Non-aerial fireworks, being those fireworks which do not project themselves into the air, or fire projectiles into the air, shall be allowed within the city limits on Thursday July 4th but not any other day except those days and places listed above.
The discharge of fireworks within the city limits, or upon any property of the City of Miles City, on any other dates, at any other times or locations is prohibited and shall be be enforced by the Miles City Police Department.