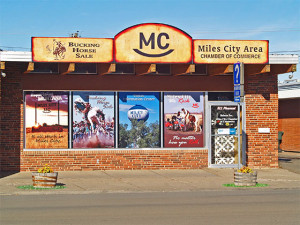 511 Pleasant Street ~ Miles City
Joining the Miles City Area Chamber of Commerce affords many benefits. Listed below are just a few examples of what your membership dollars can do for you and your business.
You and your business will be added to our website at www.milescitychamber.com and introduced on our Facebook page, which has over 6000 followers. We also follow your business Facebook page and share your posts with our following, getting you great visibility.
Membership also allows you to link your website to ours. Our website sees an average of 300 visits per day, and is top-rated by Google.
A monthly e-newsletter is distributed to over 800 businesses, members, and residents, each month. This can include news you wish to have published, or you can also have an insert added to the letter. Your business will be introduced in the newsletter, as one of our newest Chamber members.
Your business will be eligible to accept Chamber Bucks. Approximately $10,000 worth of Chamber Bucks are purchased each year, keeping that money in Miles City businesses.
Access to our Bulk Mail Permit for large mailings, which results in valuable cost savings.
Eligibility to participate in annual marketing opportunities, such as the Ag Banquet, Event Guide, and others, that are only offered to members.
A professional staff that answers phone calls and directs thousands of visitors and residents each year, to member businesses.
A unified effort to build a strong business community and region.
A partnership with an enthusiastic economic development office, addressing the needs of prospective businesses.
A FREE Business Listing for 30-days on the Miles City Plus App
Contact the Chamber office, at (406) 234-2890, about the Dues Structure for your business!