Agri Industries
Work
2106 S Haynes Ave
Miles City
Montana
59301
USA
work
Phone
:
406-234-2309
work
Phone
:
1-800-207-0650
work
Website
:
Agri-Industries
Photos
Agri Industries has been dedicated to agriculture and the irrigation industries since 1982, when the company was founded by brothers Mike and Greg Ames. The business was founded on the idea of expanding irrigation throughout the MonDak region and the company holds true to that mission today.
Company Mission:
Facilitate the enhancement of agriculture and community through engineered development of natural resources.
Agri Industries has the knowledge, experience, equipment, and dedicated employees necessary to meet the ever-expanding needs of our customers. In an effort to grow the company and meet customer needs, Agri Industries has expanded its area of expertise into underground construction and electrical services.
We also remain committed to a set of core company values:
To maintain our compassion and integrity in all situations.
Ensure a positive experience for all customers.
Have timely and courteous response to all concerns of customers and associates.
Committed to accurate company records for past, present, and future files.
To have passion towards engineering the best systems for all customers needs.
To have discipline in adherence to company policies, rules, procedures, schedules, and standards.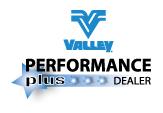 Info
Agri Industries is your Valley Performance Plus dealer. Our commitment to you does not end with installation after the sale. We recognize that the ongoing availability of parts and timely quality services are critical to your success.
Your Valley dealership in 5 locations in ND, MT & WY
Professionally trained service
Pivot irrigation design, installation & support
Financing & Insurance
AgSense® remote-managed irrigation
Quick Turnarounds
Turbines
Pumps
Custom Parts
Welding
Valley parts
Irrigation Parts
Plumbing