11/1/2020
**DUE TO A HIGH VOLUME OF ACTIVE COVID-19 CASES IN TOWN, OUR OFFICE IS CLOSED.
WE ARE WORKING FROM HOME, CHECKING THE WEBSITE, PHONES, EMAILS, AND FACEBOOK PAGE, REGULARLY. IF YOU NEED TO CONTACT THE OFFICE, PLEASE EMAIL: office.milescitychamber@gmail.com
The Miles City Area Chamber of Commerce is not your typical Chamber. Our members go beyond the business community, with ranchers, farmers, as well as retired folks, as members. Anyone who cares about our town is welcome to join. Our primary functions are promoting business and economic growth, tourism, and tackling any issue that greatly affects our community. Our doors are open to anyone with an idea that will enhance our community.
Visit us at:
511 Pleasant Street
Miles City MT 59301
(406) 234-2890
or email: office.milescitychamber@gmail.com
Office hours:
Monday – Thursday: 9:00am – 12:00pm / 1:00pm – 5:00pm
Friday: 9:00am -12:00pm / 1:00pm – 4:00pm

Chamber of Commerce
Visitor Information Center
Convention & Visitors Bureau
Tourism Business Improvement District
Office of Miles City Bucking Horse Sale

"The Mission of the Miles City Area Chamber of Commerce is to foster the growth and development of business in Miles City and the surrounding areas, and to promote cultural and educational activities that engage both businesses and citizens of the area."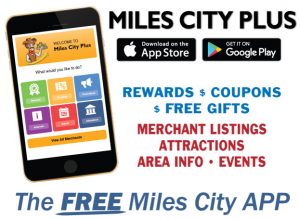 Save
Save