The confluence of the Tongue and Yellowstone Rivers is rich in history. It was well known to Indian tribes, fur traders, and explorers. Captain William Clark camped near the mouth of the Tongue on July 29, 1806. Steamboats carrying immigrants, soldiers, and goods, traversed its course.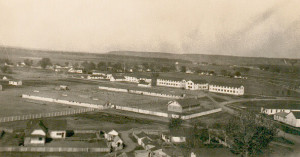 In early June 1876, Generals Custer and Terry conferred aboard the steamer, Far West, near what was to become Miles City. Custer and his men set out for the long march that was to end in disaster at the Little Bighorn on June 25, 1876. As a direct result of this battle and the influx of soldiers, Fort Keogh and Miles City were founded. Saloons, dance halls, bordellos, boarding houses, and general stores serviced the population of soldiers, buffalo hunters, bullwhackers, muleskinners, cowboys, and Indians.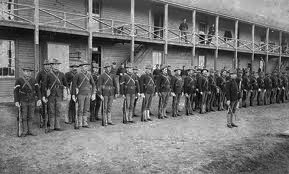 The Northern Pacific Railroad arrived in 1881. Miles City became a destination for herds from as far away as Texas. The railroad provided direct shipping to packing plants in the east. Even though ranchers had lost more than half of their herds in the harsh winter, the town incorporated in 1887. The Main Street buildings reflect the growth spurts of the town. Fort Keogh served as a remount station during World War 1, and Miles City became the largest horse market in the world.
Miles City has earned its place in history-from early explorers and frontiersmen to soldiers and ranchers, Miles City grew where two rivers met- the Yellowstone and Tongue Rivers. Miles City is proud of the parks, rivers, and historical sites that provide recreational fun and adventure for everyone. Visit us and discover why we are truly a Legendary Western Town.