Hermann Stieffel Mural
Home
Riverside Park
400 Main St.
Miles City
MT
59301
home
Photos
The 1878 view of Miles City was painted by Hermann Stieffel, Soldier Artist of the West, a Private in Company K of the 5th Infantry at Fort Keogh.
When General Nelson Miles selected the permanent site for Fort Keogh, steam-boats began arriving with supplies for the new Fort and the community.   The civilians moved to the east bank of the Tongue River, clustered around the Ferry Landing, which is now Riverside Park.
This is the view that Pvt. Stieffel, depicts in his watercolor, "A Soldier's View".  Although he was not a trained artist, the details in his paintings give us a view of life in the frontier west.
The original is located in the Forbush Memorial Library in Westminster, Mass., hometown of General Miles.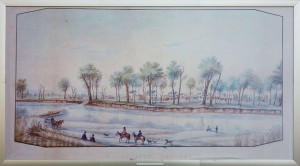 The 8' x 14' mural, "A Soldier's View", is hung on the backside of the Riverside Park Lion's Shelter, facing what was the Ferry Landing on the Tongue River, before it was re-channeled in 1907.
Info
A project of Miles City Preservation Commission & Custer County Historical Society