First Interstate Bank
First Interstate Bank
Contact
:
Jeffrey Rodenbaugh,
President
Work
2909 Dickinson St
Miles City
Montana
59301
work
Phone
:
406-232-5590
work
Phone
:
1-888-752-3341
work
Fax
:
406-232-7613
work
fax
Website
:
First Interstate Bank
Photos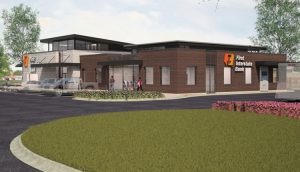 New location
2909 Dickinson St. ~ Miles City
"The new 7,000 square-foot branch merges the traditional branch concept with improved digital technology. Customers can still enjoy the relationships they've cultivated with their Miles City bankers, but they'll have increased options and conveniences regarding how they interact with the bank.
"The new branch was built to anticipate changes in technology and banking trends so that we can best serve Miles City and the surrounding communities," President, Jeff Rodenbaugh said. "This model is exciting for us because it couples innovation with the time-honored level of superior service our clients have come to expect from First Interstate."
A larger lot allows for improved traffic flow, and drive-up lanes were outfitted to better serve larger vehicles like trucks with trailers and SUVs.
The high-performance building will be as energy efficient as possible, providing a comfortable, customer-friendly space that is both aesthetically pleasing and highly functional".
Info
Full Service Bank providing Financial Services, including Loans, Trust, and Brokerage Services. Personal, Commercial, and Ag Services are available as well.
First Interstate Bank is a multi-state banking organization headquartered in Billings, MY.  First Interstate has evolved since 1968 from a single bank in Sheridan, Wyoming to operating 72 branches and over 100 ATMs in Montana, Wyoming, and South Dakota.