Ft. Keogh Livestock Range & Research Laboratory
Ft. Keogh Livestock Range & Research Laboratory
Contact
:
Mark Peterson,
Research Leader
Work
243 Ft. Keogh RD
Miles City
Montana
59301
work
Phone
:
406-874-8219
work
Website
:
Ft. Keogh LARRL
Photos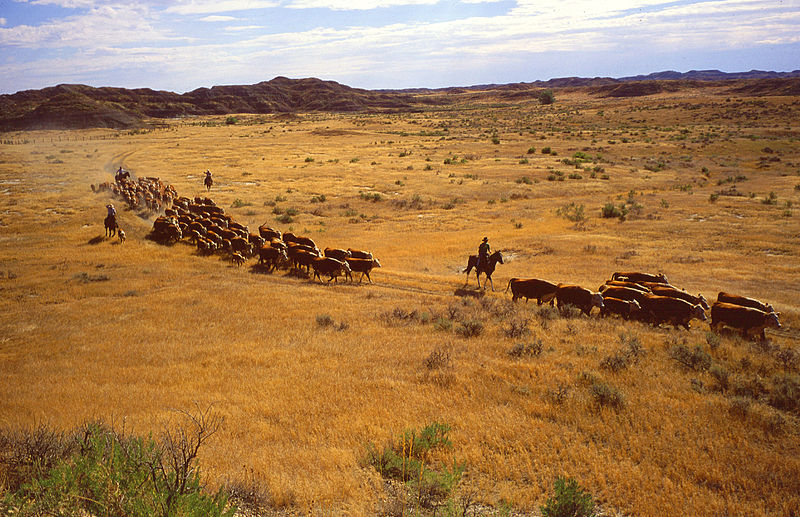 Cattle roundup at Fort Keogh Livestock and Range Research Station in 2002
The mission of this unit is to develop ecologically and economically sustainable range animal management systems that meet consumers' needs. Agriculture is the business of capturing solar energy and transferring it to humankind for their use (i.e., food and fiber), and grazing of rangelands is one of the most sustainable forms of agriculture known. Research focus is on developing profitable management tactics that enhance the efficiency whereby solar energy is captured by the forage resource and subsequently harvested and assimilated by grazing animals into highly desirable agricultural products.
Info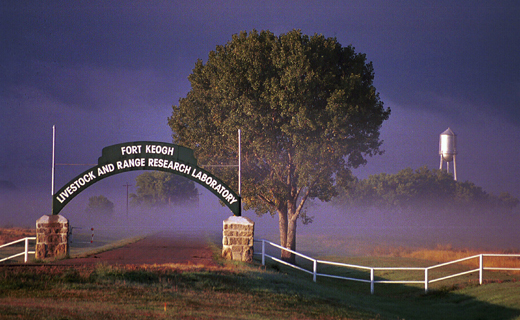 The Fort Keogh Livestock and Range Research Lab supports the American livestock Industry by improving the efficiency of livestock production and the nutritional value of beef. This research helps keep the price of beef stays low for U.S. consumers and helps keep ranching and farmer sustainable.
Military History – Fort Keogh was established by Congress as an Army Calvary post on July 22, 1876, approximately one month after the Battle of the Little Bighorn. The 100 section (64,000 acres) Fort was named after Captain Myles Keogh, an adjutant to General Custer at the Battle. The initial commander of Fort Keogh was General Nelson Miles for whom Miles City is named.
In 1907, all infantry troops were withdrawn from the Fort and in 1909 it was designated a Remount Station. Reportedly, more horses were processed at Fort Keogh than any other Remount Station during World War I. The Army relinquished the land in 1922 and following the complete withdrawal of all military personnel in 1924, Congress transferred Fort Keogh to the U.S. Department of Agriculture for the purpose of conducting agricultural research. The date of transfer was April 15, 1924. For a more detailed treatment of the Fort Keogh's military history, we recommend reading Josef Warhank's unpublished California State University Masters of Arts thesis entitled Fort Keogh: Cutting Edge of a Culture available on our website.
Research History – The earliest research at Fort Keogh focused on animal genetics and range management. At one time the Fort maintained purebred herds/flocks of Rambouillet ewes, Belgian, Morgan and Thoroughbred horses, Bronze turkeys, Milking Shorthorn cattle, Wiltshire Side hogs, and Hereford cattle. Gradually, the sheep, horse, turkey, milk cow, and hog research was phased out with the last to go being the hog research in 1986. Today, the animal research herd is restricted to beef cattle and includes research conducted in three broad disciplines; genetics, reproductive physiology, and nutrition.
The earliest range research began in the 1930's under the direction of the U.S. Forest Service. This pioneering research focused on establishing "safe" winter and summer stocking rates for the Northern Great Plains. Today, the range management research is conducted in three broad disciplines; rangeland ecology, plant ecophysiology, and animal nutrition.
Resources – The Fort currently consists of about 55,000 acres of which about 50,000 acres are native rangeland, 2,500 acres are dryland planted pasture, 1,000 acres are irrigated pasture, and 700 acres are irrigated cropland. The remaining 800 acres are the headquarters area, corrals, etc. We have about 400 miles of fence and 220 miles of roads and trails.
The irrigated farming operation produces about 3,500 T of alfalfa hay, 5,000 T of corn silage, 7,500 bushels of barley grain, 150 T of sorghum sudan hay, plus an assortment of barley straw and grass hays. All farm products are used for livestock feed.
The beef cow herds consists of about 250 Line 1 Herefords, the oldest and purest line of Herefords in the world; 400 CGC's, a composite gene combination herd consisting of 50% Red Angus, 25% Tarentaise, and 25% Charolais; and about 750 mixed breeds cows. We have a modern 40,000 bushel feed mill and two feedlots that can accommodate about 1,000 head of growing cattle.
The Fort Keogh staff consists of 22 USDA Agricultural Research Service (ARS) employees and 20 Montana Agricultural Experiment Station (MAES) employees plus 5 – 10 seasonal employees. The scientists and most of the technicians are ARS employees whereas the outside cowboy, farm, and maintenance crews are MAES employees. There are 8 scientists; 2 geneticists, 2 reproductive physiologists, 1 range animal nutritionist, and 3 rangeland scientists. In addition, we have a Montana State Extension Service Beef Cattle Extension Specialist office at Fort Keogh.
Administration – Administration is a cooperative venture between the ARS and MAES in that ARS owns the land, facilities, and most of the equipment and MAES owns the livestock.  Funding for the operation is through federal USDA appropriations and the sale of livestock. No State of Montana funds are used at Fort Keogh other than those funds realized from the sale of livestock. As ARS Research Leader, I have a MAES courtesy appointment of Superintendent.