Red Rock Sporting Goods
Red Rock Sporting Goods
Contact
:
Cliff & C. B.
Schantz, Owners
Work
700 S Haynes Ave
Miles City
Montana
59301
work
Phone
:
406-232-2716
work
Phone
:
(800) 367-5560
work
Website
:
Red Rock Sporting Goods
Photos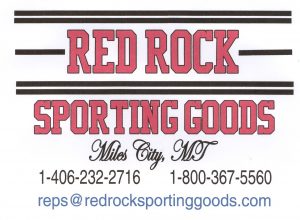 Info
We are a full line sporting goods store. We offer quality products at a competitive price. We carry products for any of your sporting or hunting needs. We specialize in Guns, Ammunition, Camping, Archery, Fishing, Athletics, and Team Sales and appreciate the opportunity to serve you.
Our Mission
We provide the broadest selection of top quality sporting equipment available at the very best prices anywhere.
Company Profile
Located in the heart of Southeastern Montana, we are well acquainted with the sportsman's needs and have provided service for over 35 years.
We have a wide variety of sporting equipment. We sell Browning, Winchester, Ruger, Smith & Wesson and many more brand name products.