Miles City Academy (Ursuline Convent)
Miles City Academy (Ursuline Convent)
Contact
:
Sharon Moore,
Executive Director
Work
1411 Leighton Blvd
Miles City
Montana
59301
work
Phone
:
(406) 234-4146
work
Website
:
Miles City Academy
Photos
With the formation of a Fort at Miles City and the families migrating west, the Ursuline Nuns from Toledo, Ohio, responded to the request by Bishop Brondel to start a safe place for the children to attend school, and also help start a school for the Cheyenne Indians. Some of the ranches around Custer County, which was originally four counties combined, were very scattered, with no schoolhouses or teachers. It was decided to erect a building in Miles City, where the nuns could teach children, and also board them, as most came from the ranches.
The original 1884 school was located on the south side of town and burned in 1897. In 1902 the townsfold, with the aid of the Catholic Church, gathered donations and had plans drawn up for a new brick building at least three stories high. It took 3-4 years to build the present Convent, with its beautifully carved woodwork and fancy windows. The stately structure is a work of art for those early times, and most would appreciate a tour of such and old building, which can be arranged. There is no charge to view the convent's history room, the fancy parlor, music rooms, and community meeting rooms, which were originally classrooms. There is also a small Chapel, with a tower to the 2nd floor. The Ursuline Convent is a beautiful monument to early settlers of Miles City, now maintained by third and fourth generations.
Walk-ins welcome for a self-guided tour-
Tuesday – Friday 11am – 4pm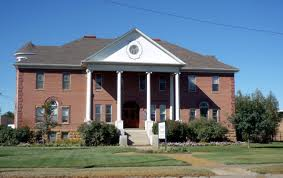 Save
Info
Spaces for Rent:
Office Space
Conference Rooms
Storage Rental
Craft Work Areas
Organization Headquarters
Community Hospitality Services:
Reception Areas
Small Chapel for weddings
Large Group Meetings
Kitchen for catered meals
Dining Room
Tours Available
Country Store  (Donation of used items are accepted)
Here are the meeting/event spaces available for rent.