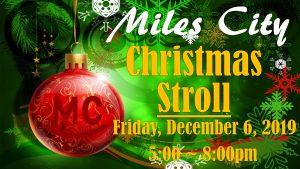 2019 Christmas Stroll
Murdoch's Ladies Day 7am-7pm

Main Street closed 4-8pm
MC Youth Center Open House – 5-7:30pm at 908 Main (2nd floor)
Veteran's Park Tree Lighting 5:30pm

Santa
Football team lighting the tree
CCDHS Choir singing

FFA Hay Rides
Wagon Rides with the Stevenson Clydesdales

FREE Gift Wrapping by Jaycees – 5-8pm at Family Floral

Tenacious Dames: Pictures with Santa the Main Street Grind
Polar Plunge – 8th & Main at 7:00pm

Lt. Governor Mike Cooney is attending the Stroll on Friday night to support local businesses and organizations and is fundraising for our local CCDHS Polar Plunge Team "Mission Impossible".

Festival of Trees – Lower level of BuyMT

Olive Hotel Stroll: Parlour Sisters sing Carols, 20+vendors, photos with Santa, and more.
Food
Roast 'Beest': at Vintage & Rustics
Soup Kitchen Fundraiser: at Vintage West
Foster Care: Haystacks at Door 804
Caledonians & Snack Shack: Scotch Eggs
Taco Shop: Stitching 4U parking lot
Girl Scouts: Soup in front of BuyMT
Businesses Open Late
Big Sky Pharmacy

10% off purses and scarves,plus a drawing for decorative nut crackers. We will draw for 1 nut cracker per day Monday through Friday of the next week (9th-13th).

MC Jewelry
LaCasa Diamonds
Family Floral

FREE Gift Wrapping by Jaycees – 5-8pm at Family Floral

Sullivan Furniture
BuyMT
Vintage & Rustics

Many activities inside the store

Creative Corner
MC Saddlery

Holiday discounts throughout the store

Girl Ran Away

Open until 7:30pm, with drawings for $25, $50, $100 gift card