Isolated, and shaded by cottonwood trees, this Yellowstone River island offers visitors an excellent spot to view waterfowl, bald eagles, fox squirrels, whitetail and mule deer. You can envision the Corps of Discovery's travel along the river, and hunt for moss agates.
The park is a haven for a wide variety of bird species including Passerine, belted king fishers, shore birds, waterfowl, bald eagles, and wildlife such as: whitetail and mule deer.
There are 2.8 miles of designated hiking trails, but the site is level and visitors can easily walk throughout the entire 269 acres. During hot weather, when the side channels aren't flowing, adventurous visitors can take a nice refreshing tree-shaded walk down the side channels punctuated with wading the remaining pools of water.
At 2,371 feet in elevation, this site has no formal development and care is needed when crossing side channels.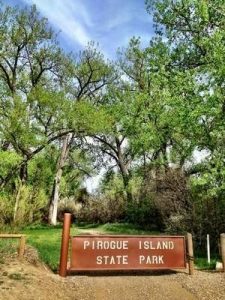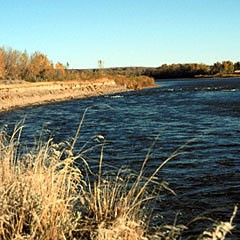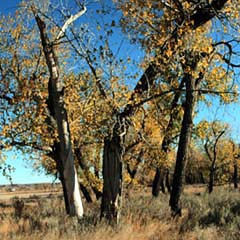 Services/Amenities Available
Grills / Fire Rings
Interpretive Display
Maps
Pets Allowed
Pack In – Pack Out
Toilets (vault)
Activities Available
Bird Watching
Boating
Fishing
Hunting – Shotgun or Bow
Picnic
Wildlife Viewing
Lewis & Clark Site
CROSSING IS NOT RECOMMENDED IF WATER IS FLOWING ACROSS THE SIDE CHANNEL.

Directions: Travel north on 59N to the Kinsey Rd/Hwy 489. Turn right and follow for 2 miles to the turnoff for Pirogue Island State Park.
Click here for the Pirogue Island Walking Path Map >>