Outdoor activities in Miles City are abundant. Fishing, hunting, bird watching, rock collecting, golf, or just taking a walk along the river can all be done within minutes of Miles City. We also throw some great events here. The World Famous Miles City Bucking Horse Sale makes Miles City the rodeo capital of the world each third full weekend in May. Throw in Mosquito Festival and BBQ Cook-Off in June, Independence Day Celebration on July 4th, Eastern Montana Fair in August, the Bluegrass Festival in September, Wine & Food Festival in November, and the Christmas Stroll, plus many cultural events and fun activities throughout each year. You will see that there is always something to do in Miles City.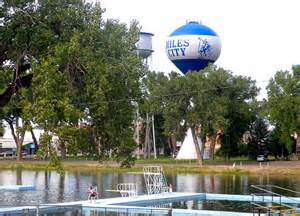 Walking Miles City: A Map of good walking locations
Miles City has great Parks!
Riverside Park, on the West end of Main Street, sits next to our Natural Oasis Swimming Pool, and the Denton Sports Complex. With a beautiful, and well-lit, walking path, this park provides activities for all ages. There's a nice playground, lots of benches and picnic tables, a covered picnic area, new restrooms, and more. Many Miles City events and activities are based in the park; Weekly Farmer's Market mid May through October, Quick Draw Art Auction during the Bucking Horse Sale, July 4th Celebration, Niedgefest Rock Concert, High Plains Classic Car Show, and more.
Wibaux Park, between South Strevell Ave. and Winchester Avenue, was established in 1915 by Pierre Wibaux. The Froggy Kiddy Pool is the main summer attraction. It has a covered picnic area, restrooms, playground, picnic tables, and lots of green for your enjoyment.
Milwaukee Park, on Lincoln Street, has a Disc Golf (Folf) Course for all ages.
Bender Park, on North Montana and Alice Streets, has 3 softball fields and a small playground.
Pumping Plant Park is located in the front yard of the WaterWorks Art Museum, at 85 Waterplant Rd. It is a beautiful park with lots of shade and picnic tables.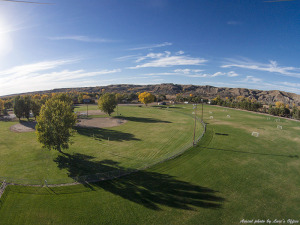 Area Places of Interest
The Yellowstone Jewel
The Yellowstone Jewel is nestled in the historically significant Yellowstone River Valley. It's only 7½ miles out of Miles City, Montana on Valley Drive East (Highway 10). The Yellowstone Jewel can also be reached by taking Exit #148 off Interstate 94. The trail leads you past the Buffalo Gap up to the high bluffs overlooking where General George Custer and the 7th Cavalry camped on June 15, 1876. You will enjoy boundless vistas of the Yellowstone River valley and beyond. For more information and history, visit their website
Named for the Sioux chief who camped his people nearby, Spotted Eagle offers a perfect place for walks, non-motorized boating, swimming, picnics, fishing or a scenic drive. The site has picnic tables, grills, a trap and skeet shooting area, horseshoe pits, a nature trail and a snowmobile trail. Make sure to spend some time at this truly wonderful place. The entrance is behind the Eastern MT Fairgrounds on Garryowen Road and Pacific Avenue.
Pirogue Island is located along the north bank of the Yellowstone River. It's an excellent area for bird watching, fishing, and picnicking. Facilities include Interpretive Trail, latrine, benches, and picnic areas. To get there, take MT Hwy 59N one mile to the top of Yellowstone Hill and turn right on the Kinsey Hwy #489, for 2 miles. Follow the signs to Pirogue Island State Park.
On the Baker road, MT Hwy 12 at the 12 mile marker, are the Strawberry Hills, a 4200 acre recreation area, great for hiking, climbing, and primitive camping. Be sure to watch for snakes and check for ticks.
The highest point in the vicinity is Signal Butte (3,051 feet / 929.94 meters above sea level), said to have been used by native Americans for communication, but used for decades by radio and sometimes TV antennas. Signal Butte lies at the edge of an area of badlands, a striking arid vista of eroded sedimentary soil, sporting multi-colored layers exposed by the erosion. The land contains sandstone formations in the midst of sagebrush and cedar trees growing in a soil that turns to gumbo when wet.
Airport Hill is the elevated bluff of the north bank of the Yellowstone River, and Paragon Pit is a remote area of the north bank opposite of Fort Keogh frequented by teenagers over the years.
Twelve Mile Dam spans the Tongue River and attracts teens in the summer for water sport. Being shallow, the Tongue River is often used for tubing, fishing, and just enjoying.
Shortly after the deaths of Colonel George Armstrong Custer and Colonel Myles Keogh, one of his officers at the Battle of the Little Big Horn on June 25, 1876, General Nelson A. Miles was sent to the area with orders to establish a fort. Miles selected a strategic site where the Yellowstone and Tongue Rivers meet from which to conduct a military campaign against the Indians. On July 22, 1876, Congress established the Fort Keogh Military Reservation. Miles succeeded in his mission – by the early 1880's most of the tribes had surrendered and were moved onto reservations. In 1907, all infantry troops were removed, and 2 years later the fort became a remount station of the U.S. Army. Fort Keogh supplied thousands of horses for World War I. In 1924, the station was turned over to USDA. Since then it has been making history as a living laboratory for scientists developing management plans that improve beef production and ultimately meat quality. Today, 45 permanent employees are involved in research activities. Twelve are
with ARS, and 33 are with the Montana Agricultural Experiment Station.
Across the highway from Fort Keogh is the site of a state fish hatchery, and nearby, a double humped butte is known locally as "Camelback".
Miles City lies at the mouth of the north flowing Tongue River as it empties into the eastward flowing Yellowstone River. Both rivers are fished regularly, but yield mostly catfish, carp and a junk fish known locally as "shiners". Many local reservoirs are stocked with edible fish from the hatchery in Miles City.
Matthews Recreation Area if great for bird watching, fishing, and wildlife viewing. You can launch canoes and kayaks on the Yellowstone River, but currently there is not a boat launch. Facilities include restrooms, picnic tables, fire pits, standing grills, interpretive kiosk, handicap-accessible fishing platform, and a cement walking path. It is a 'pack-in, pack-out' area. Take Hwy 10 east out of Miles City approximately 1 mile, then northeast 9 miles.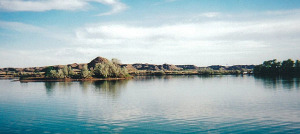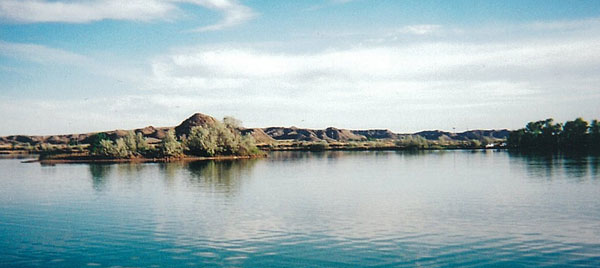 Featured Listings —
Miles City Saddlery
Miles City Saddlery
Contact
:
Jack & Mary Lou
Deibel, Owners
Home
808 Main St
Miles City
Montana
59301
home
Phone
:
406-232-2512
work
Website
:
Miles City Saddlery
Photos
Info
Miles City was a legendary cattle town in eastern Montana and the "end of the trail" for many longhorn cattle drives, from Texas, in the 1890′s. With the disappearance of the buffalo, completion of the railroad through Miles City, and the rich virgin grasslands found there, cattle and ranching became the prime occupation of its' inhabitants. While towns may have been fewer and farther between, most had a store where one could at least buy a saddle, and the larger cities boasted one or more custom saddle-making shops. However, two saddleries in particular helped make a relatively small Montana cowtown at the end of the Texas trail famous.
Al Furstnow, learned the saddlery business from his father. At age 19, he worked for Collins in Cheyenne in 1881. He worked in Miles City for Goettlich for about a year starting in 1883 and then for Collins in Omaha in 1884. He bounced around to Cheyenne and San Francisco and then came to work in Miles City for Robbins and Lenoir in 1894. In August, he opened Furstnow's Saddle Shop with himself as the sole employee. In December, his shop got a boost in capital and another able business mind when Charlie Coggshall bought a half-interest.
Charles E. Coggshall, who had been ranching with his father, disposed of his livestock and in December of 1896, they bought out the stock of Moran and W. J. Zimmerman, whom Moran had taken on as a partner in an attempt to stay in business. Furstnow and Coggshall added workers and became the only major saddlery between Billings and Dickinson, ND. In 1899, Furstnow and Coggshall split up, forming a rivalry that lasted well into the 20th Century. Charles E. Coggshall was a strict taskmaster from the old school of hard work and incredible quality. He had the amazing ability to employ the best craftsmen anywhere. Although Charles himself was not a saddlemaker, his years of experience as an avid horseman enabled him to recognize the virtues of a good saddle. Improvements and changes were constantly being made over the years. Under his guidance the Montana Saddle Tree was perfected. He was also responsible for improvements including the swell fork and flat-plate rigging. But what he and Furstnow are both credited with is making thousands and thousands of saddles.
In a highly successful effort to help fill the world's need for saddles, the firms started by Al Furstnow and Charlie Coggshall blended assembly line techniques form back East with custom care exercised by the one-man shops of the West. The two large local saddleries employed dozens of men who came to specialize in various aspects of making this most necessary of cowboy tools. Some saddlemakers made four to six saddles per week and some stayed in the business long enough to make 2,000 to 3,000 saddles.
In 1909, things started happening in the local saddle business. Coggshall employee Clem Kathmann, along with Frank Jelinek and Bert Coleman, bought out Coggshall and formed the Miles City Saddlery Co. In 1910, Al Moreno, a highly talented stamper from California joined Furstnow in his new building. Furstnow was turning out about 800 saddles per year at that point. Both saddleries steadily built their businesses up to a peak in the late teens. In 1916, the Miles City Saddlery made 1,937 saddles. At the outbreak of World War I, two dozen men were employed in the shop. Between 1910 and the Depression years of the 1930′s there were as many as 40 saddle makers working in Miles City. Toward the end of the peak, in the teens, the range started closing up and there was a corresponding decline in the need for saddles. The Depression ignored need. There was simply no one buying saddles. Some cowboys, reportedly, had to bring their saddles back because they had no means of paying for them.
Of Miles City Saddlery, Coleman died in 1917 and Kathmann in March of 1936 leaving Jelinek sole proprietor until former bookkeeper Joe Conway bought him out in 1939. In 1954, Joe Conway handed the business down to his sons, Dick, Bob, and Luke Conway. Merv Fuller, and son-in-law and daughter, Tat and Tamara Cain, bought the business in 1962, and former Conway employee, Carl Wilson, bought the Coggshall saddlemaking end of the endeavor in 1961. Wilson closed shop in 1982. The photo above was taken in the 1940′s and shows the thriving times. The Miles City Saddlery was located next to the Range Riders Bar-Cafe shown in this photo. In 1989, Jack and Mary Lou Deibel bought Miles City Saddlery from Tat and Tamara Cain and saddlemaking in Miles City was revived. In 1997, they started building hand-made custom saddles again under the Miles City Saddlery name. Significantly, the most talented craftsmen in the industry have once again surfaced in Miles City. With the re-issue of some of the saddles that made Miles City Saddlery famous, such as No.l, and No. 11, and with plans to build others, the success of saddlemaking has returned to the historical cowtown of southeastern Montana.
Save
Save
Save
Save