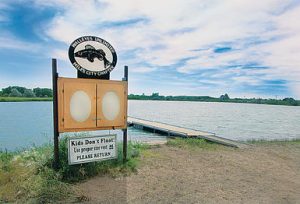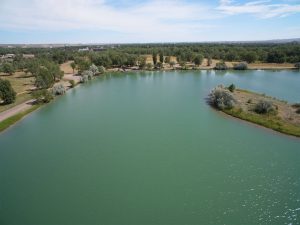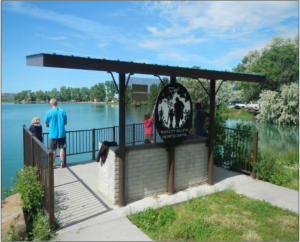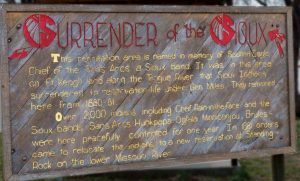 Named for the Sioux chief who camped his people nearby, Spotted Eagle offers a perfect place for walks, non-motorized boating, swimming, picnics, fishing or a scenic drive. The site has picnic tables, grills, a trap and skeet shooting area, horseshoe pits, a nature trail and a snowmobile trail. Make sure to spend some time at this truly wonderful place.
123 acre property and 23 acre lake are owned by the City of Miles City. The local Chapter of Walleyes Unlimited and the Custer County Rod & Gun Club contribute most of the maintenance and care of the facility, are responsible for most of the structures on the site. Call Police Dispatch, at 232-3411, to report damage.
Picnic Tables & Restrooms
Life Jackets available for loan
Walking Trails, Horseshoe Pits, Grills

Swimming – No Lifeguards
Non-motorized Boating
Fishing
Docks
Directions: The entrance is behind the Eastern MT Fairgrounds on Garryowen Road and Pacific Avenue.
~From the I-94 Bus. Loop, turn onto Garryowen Rd, then onto Spotted Eagle Rd.
~From Pacific St, travel west, over the Tongue River Bridge to Spotted Eagle Rd.
Click here for the DIRT TRAIL Map >>
Click here for the Lake Loop Map >>